A few days ago I recorded a podcast with Bob McKee the Chief Executive of CILIP – the Chartered Institute of Library and Information Professionals in the UK. The interesting and entertaining podcast can be listened to here.
The experience was a first for both of us – my first face to face recording in the Talis offices and his first podcast interview. Looking for a quiet unoccupied area I used the office of our CEO, Dave Errington, as he was out for the day. I didn't realise until his blog post that my choice of location would create such an impression with Bob.
Bob perused Dave's bookshelf on his way out..
I had a quick peek at the reading matter on display: plenty of stuff on technology (as you might expect) but also lots of good stuff on management and leadership.

Also on the CEO's bookshelf was John McEnroe's autobiography, Serious? – an intriguing choice, confirming that sport can be used as a metaphor for management (and indeed for most things in life) and bringing me back to that question I'll be thinking about while listening to the podcast. Think of discourse through social media as having the same authority and validity as discourse through conference papers or learned journals or policy documents – you cannot be serious?!? Or can you?…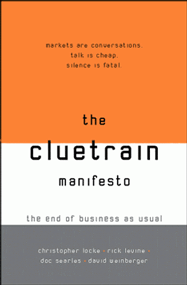 One of the books missing from Dave's shelf that day is one that will answer Bob's hanging question – The Cluetrain Manifesto.
Markets are conversations – the message of the book backed up by insightfulness such as "Companies need to listen carefully to both. Mostly, they need to get out of the way so intranetworked employees can converse directly with internetworked markets."
Like all books of the ilk it is targeted at the commercial world, but by replacing company, employee and market with institute, member, community, and profession, the message is equally valid for CILIP and the world of libraries. It is all about the conversation, which is not that easy with the online persona of Mr McKee – you can't comment on his musings unless you register and login to the site that hosts his blog, and how to do that is not that obvious.
Bob should be complemented and encouraged for his forward thinking and dipping his toe in the online social world and launching his From the Executive's Desk blog, but go on Bob forget the toe – dive in and go the whole way. Open up the conversation, make it easy for anyone to comment, ping the blog search engines like Technorati when you post, allow trackbacks. If you are going to do this social networking thing – You must be Serious!